"Love is obsessed with people who are obsessed with her" LA Times 1992
Courtney Love has been labelled a murderer, manipulator, bad mother, groupie and junkie. On the flipside she has been named a musical trailblazer, role model, award-winning actress, feminist icon and fashion guru.
How can one person be called so many contradictory things?
Courtney has never been a simple subject matter and I looks at her eventful life so far to help explain why she is regarded in such formidable terms.
Courtney was a difficult child who ended up in a correctional school in 1979. In an attempt to escape this, she ran off to Japan aged 15 to work as a stripper in exchange for her passport.
To return home, she had to hand herself in for deportation. This stint not only made her money but made her feel pretty and she enjoyed the stagecraft element. After moving to Liverpool and having a short but fiery love affair with Julian Cope of The Teardrop Explodes, Courtney started a band
with Jennifer Finch (later of L7) and Kat Bjelland (Babes in Toyland/Katastrophy Wife).
This quickly dissolved, and after bit parts in "Straight To Hell" and "Sid And
Nancy", Courtney formed the first version of Hole, causing a stir among independent record labels in LA. By 1992, Hole's first album "Pretty on the Inside" was listed as a top twenty album in Melody Maker and the single "Teenage Whore" was a top 20 single in the UK.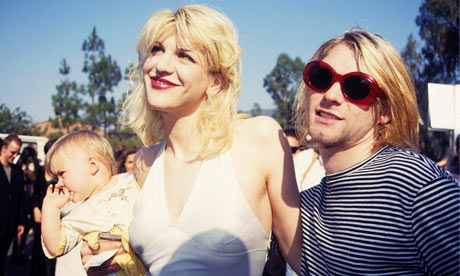 By indie rock standards, Hole were hot. Courtney's star continued to rise and she then fell pregnant and married Kurt Cobain.
Following the birth of Frances Bean Cobain, Hole signed to Geffen for $1million. An article in Vanity Fair described Courtney as "a trainwreck personality: she may be awful but you cant take your eyes off her".
Courtney told Rolling Stone in late 1994 that the day that Frances
was born, following various hatchet jobs claiming that the baby had suffered opiate withdrawal, Kurt brought a gun to the hospital. Courtney claimed they were both going to shoot themselves but the gun was removed by long serving Hole guitarist, Eric Erlandson.
By this point. Kurt was a huge star and Courtney was writing the forthcoming
album, "Live Through This".
When asked if motherhood had changed her as an artist she said "Am I supposed to write a county record because I had a baby? I've felt more sexual warfare, political, medical and media terror in the last couple of months than I've ever felt in my whole life".
Kurt was recording "In Utero" with Steve Albini, who branded Courtney a "psycho hosebeast". Courtney retaliated by saying that Albini was a misogynist, who liked women who never said a word.
Similarly, Courtney had rows with the twee Olympia scene, berating their soft lyrics, guitar sounds and cliques. This was personified forever in her track "Rock Star".
After Kurt's death, Courtney claimed that she would have been dead had she not gone on tour. She wore black every night and was often described as completely intoxicated. This is probably one of the most intense performances ever witnessed at an MTV event:
http://www.youtube.com/watch?v=4ljFNN4iRao
"Live Through This" was named album of the year by Spin and is an intricate mix of prophetic lyrics and anger at people, social norms and attempting "credit in the straight world".
Award winning film roles followed and Courtney appeared to have a Hollywood makeover.
Much speculation has been made of her cosmetic surgery, relationships and suspected drug use. Her daughter has also become legally separated from her, claiming that Courtney has used drugs for as long as he can remember.
"Celebrity Skin" in 2000 and subsequent releases "America's Sweetheart"
and "Nobody's Daughter" encompass similar themes to previous works, but without the raw power of earlier work.
"I'm the last bitch standing"
Regardless of the labels, the world is still fascinated by Courtney. Her media character has much overshadowed her music. The following video is someone desperate to break through and make amazing records and its that drive and fierce ambition that defines Courtney's incredible impact on music.
http://www.youtube.com/watch?v=mS1Ckczz0LQ